Hello!!!
In here you'll find pictures of English and American Cocker Spaniels around the world!
If you want to add the pic of your doggie in this section, just email me and tell me a little more about him/her, your name and where you are from!
If you have more than one cocker, no problem! I'll be glad to add all of them in here! If you have a website, about them I can add it too! Enjoy!
I'll be waiting for your email!





M u r p h y
(Spartan Sweet Revenge)

Murphy is a beautiful 3 year old black and tan American Cocker Spaniel.
He lives with his mommy Gillian Hartlan in Herefordshire, England.
Murphy is a lovely boy, very friendly, loyal and trusting and a sheer joy to own.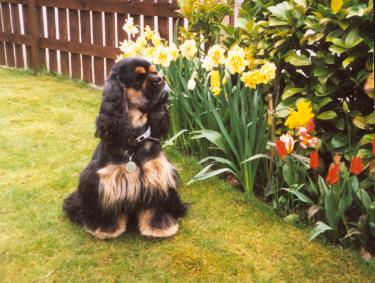 R a n g e r

Meet Ranger! Ranger is a buff American Cocker Spaniel. He lives with his mommy Jennifer in Texas.
Ranger mommy says:
" He does a lot of traveling with us and loves every minute of it. He is our "baby" so he is a little spoiled but I would have it no other way!"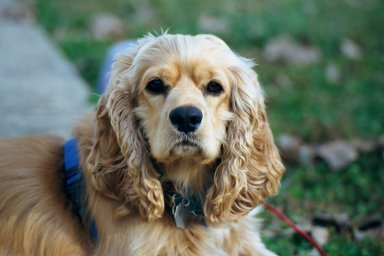 Visit Ranger's WebShots.



B a i l e y

This is Bailey, he's a 7 year old English Cocker Spaniel.
Bailey was born in Sevilla, Spain on February 23, 1994.
He was adopted from the SWECAS Rescue Organization.
Now he lives with his mommy Heather Lundquist in Sweden.
He can catch treats and a toy in mid-air.
His favorite food right now is Friskies Digestive Complete Menu!
He can fetch things, but doesn't get the concept of always returning these things!
He hates vacumn cleaners, cats and other male dogs.


Visit Bailey's Website.




E l l i o t
(Elliot Tell L'Amour)

Elliot is a handsome 1 year old American Cocker Spaniel.
He is in conformation and has two point at this time!
He has a wonderful personality he almost talks to her mommy June, he can let her know exactly what he wants!
He has another show in Claremore, OK. the last week end of this month.
GOOD LUCK ELLIOT!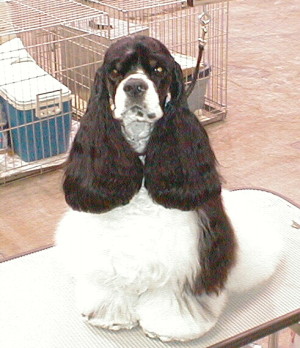 G a b b y

This is Gabby! He's a cute 6 year old (7 in June) American Cocker Spaniel.
Gabby lives with his dad Manuel Villanueva in Warren, MI.
His favorite activity is going for walks and chasing squirrels. His neighborhood is full of squirrels for Gabby to chase!
Gabby also loves squeeky toys.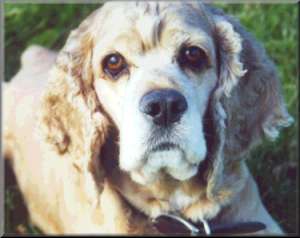 Visit Gabby's Website!



D a f f n e y

Meet "Daffney" she is a 9 month old American Cocker Spaniel and is White and Buff color. Daffney lives in Atasocsa, Texas with her Mommy, Daddy, sister, brothers and her farm animal friends that consist of a cow, steers, goat, rabbit and two house cats. But she is the "baby" and does no wrong ! Her family love her very much.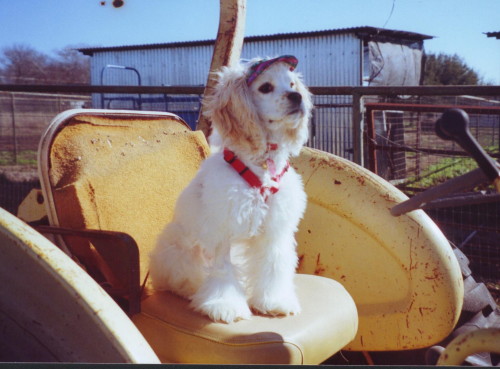 Visit Daffney's Webshots!



J a x o n
(Baxter Jaxon Bleau Bailie)

This is Baxter Jaxon Bleau Bailie. He is an AKC Buff Cocker with CDX Champion bloodlines, and the foundation sire of Walking in the F.O.G. Cocker Spaniels of West Texas. He has sired many beautiful pups in the past 7 years and is still going strong. His pups have gone all over the world with military personnel, and are spread all over the US - from New Mexico to Kentucky. One even lives on a houseboat in New York City!
He lives with his mommy Genji Bailey in Levelland, Texas.
He's a beautiful boy!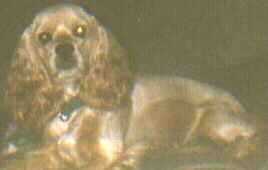 Visit Jaxon's Website!



M e l o n

This cute little guys is Melon. He's a 1 year old English Cocker Spaniel.
He lives with his mommy Eva and daddy Willy in Madrid, Spanin in a nice flat.
He has a very strong and dominant character, but at the same time he is so cute, loving and playful. He is a very good dog.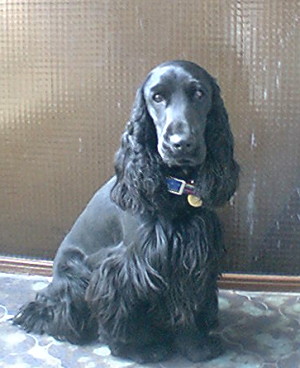 Visit Melon's Website!