B a i l e y

Bailey is sweet black American Cocker Spaniel born on November, 20, 2002. His registered name is "Bemine Prince of Thieves".
He lives in Abbotsford BC Canada.




Q u i g l e y, F a r l e y & K e e l e y

These three adorable American Cocker Spaniel live in Northen Alberta, Canada with their mom Kim. Quigley (right) is a black and tan in color, he is 7 yrs old.
He loves sleeping and eating, and the occasional walk. He is mellow with a fabulous temperament, and he loves everybody he meets.
He is the family's official greeter!

Farley (left) is a buff in color, and 4 yrs old. His official name is Ch Silverwood's Northern Light CD.
He was the first show dog and the first obedience dog in the family, and he is Kim's my heart dog.
He is now neutered and doing advanced obedience training, as well as learning to hunt.

Keeley is solid sable and she is 2 yrs old. She has been shown some in Canada, and is the only solid sable in North America to have won a Best puppy In Group award!
She has taken a long break from the show ring, but is looking forward to the next show in May 2004.
She has been learning some basic obedience, and is just having fun.
Good Luck Keely!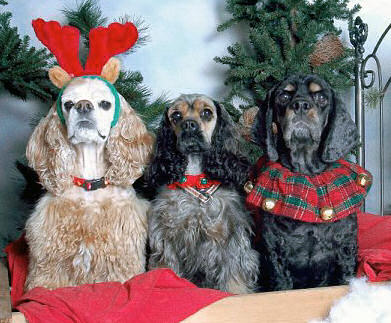 D a n n i

Danni is a little buff American Cocker Spaniel living with her mom Lindsey in Louisiana, USA.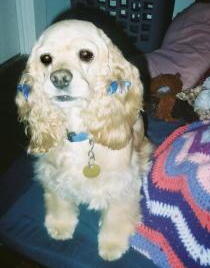 A b i & L e o r y

These adorable tri-color American Cocker Spaniels are Leory (left) his dog mom Abi (right).
They live in San Antionio, Texas!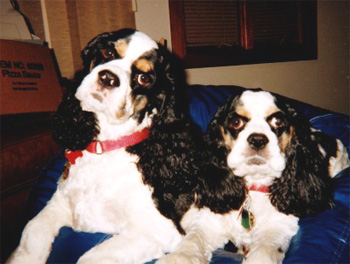 T y n a n

This is baby Tynan! He is a cute black American Cocker Spaniel.
His full name is Tynan Koal Atim. He is owned by Maureen Hardie, Pickering, Ontario, Canada.


This is Basil! She is a Chocolate American Cocker Spaniel.
Basil lives with her mom Jennifer Durden, in Florida.

Visit Basil's Website!